Question: "We manage our 375 acres for improved deer hunting by selective harvest and supplemental feeding. And we've seen the benefits over the past six years. We are always looking for new, better supplements to keep our options open. Supplemental feeding< has helped our fawn production big time, but we understand that it is only a component of our overall management strategy. Have you ever fed deer peanuts for protein as supplement over the summer?
I know that peanuts are high in protein and fat, both of which can really help deer. Body condition is the key to antler growth in bucks, as well as fawn survival. My timed spin feeder can throw peanuts, without the shell of course, so I was thinking about using them this summer to provide some additional deer nutrition. Are peanuts all that different than acorns regarding nutrition for whitetail deer?"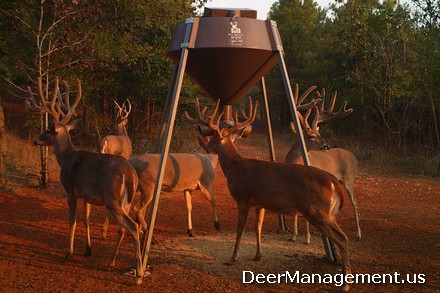 Response: Whitetail deer love peanuts. And like you stated, peanuts are high in protein and fat, making them an excellent food for deer. This combination would be especially great post-rut, when bucks are wore down and need to really pack on some weight. Although your idea is a good one, I think feeding peanuts would be cost prohibitive for the most part. Peanut hay may be more affordable, but time consuming to feed.
Peanuts cost a couple bucks just for a quart of them at the grocery store. In addition, peanut hay is expensive and that is probably the only source of peanuts that one could afford for feeding whitetail deer. In years past, peanut hay was going for $55.00 for the big rolls. This year they are priced at $120.00 and up. There are many other costs associated with feeding peanuts or peanut hay. For most folks, simply getting their hands on it will be expensive. Transporting it can really cut into the pocket book.
Depending on your property, you may want to plant a peanut food plot of whitetail deer. If you can plant peanuts successfully then will have a great supplement. We hunted Mason County where peanuts were the main crop for years, and the whitetail went nuts over peanuts, especially during the harvest. Peanuts liked the sandy loam type soil found in this area. Always seemed like a good food plot for deer, but an expensive one to establish. A lot of other more traditional plants can work well too for less cost.
In summary, whitetail deer love peanuts. They will eat every one that you put out. However, unless you can source them for a great price it will be quite cost prohibitive to feed them to deer. Your deer hunting will continue to improve as long as you keep managing for good habitat and stick with selective selective buck harvest. Nutrition is a big part of deer management, but age and genetics should not be overlooked. Keep up the good work and best of luck to you!